NAVIGATION
LATEST NEWS
CONTACT US
Add: RM 1802B-A6 Fortress Tower 250 Kings RD North Point HongKong
Tel: +86 010 8499 8901
Fax: +86 010 8499 8901
Email: adahan@foxmail.com
ONLINE STORE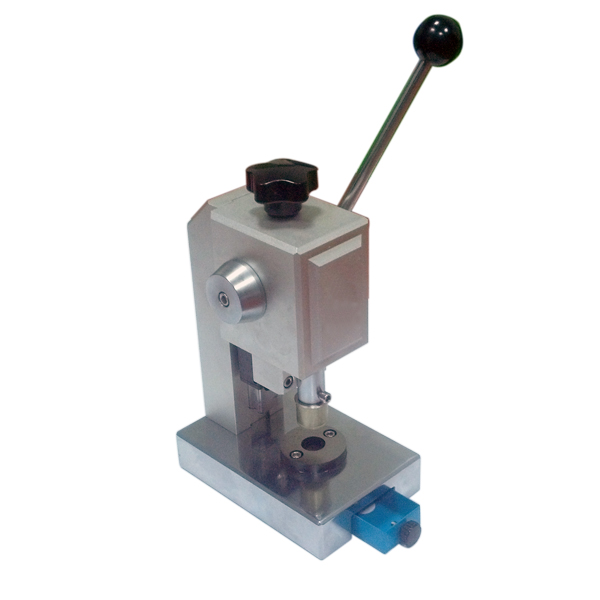 Battery machine Coin cell punching machine / button cell disc cutting machine /Compact Precision Disc Cutter YD-0124
Product description: Battery machine Coin cell punching machine / button cell disc cutting machine /Compact Precision Disc Cutter YD-0124
Product introduction
Picture

Introduction

This machine is mainly used in die cutting process. It applied to 0.005~0.5 thickness cathode/anode, separator for die cutting.

Main feature

- Up die mould adopts high precision guide rail, High precision punching, no burr, indentation.

- The die cutting thickness range: 0.005~0.5mm a wide variety of battery material

- Small volume, Easy to operate, flexible and quick to use

- The appearance is exquisite, beautiful, simple, clean and easy to maintain and has the advantages of small size and so on.

- Material: aluminum alloy corrosion resistant material, never rust

Specification

- Die cutting dimension: optional Ф3mm~Ф24mm customized;

- Die cutting trip: 25mm;

- Dimension:L110×W150×H235mm;(4.3in×5.9in×9.3in)

- Can be transferred through glove box antechamber with overΦ200mm diameter

- Material: aluminum alloy, rust proof;

- Weight:6Kg;

Mould

Options mould size:Ф3~Ф24mm customized

Maintenance method and attention

- Clean with clean rag dipped in alcohol after each using and if no use the next day,coated anti rust oil。

- Clean the guide rails and other moving parts regularly, and add oil for moving smoothly.

- Regular inspect various parts of machine drawing screw, the nut, pin and other fasteners, prevent loosening, eliminate punching machine quality accidents and related accidents.