NAVIGATION
LATEST NEWS
CONTACT US
Add: RM 1802B-A6 Fortress Tower 250 Kings RD North Point HongKong
Tel: +86 010 8499 8901
Fax: +86 010 8499 8901
Email: adahan@foxmail.com
ONLINE STORE
Your position: Home > Ultrasonics/Water Circulator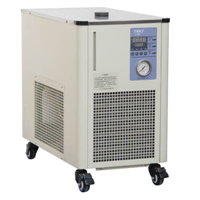 LX-300 Glove Box Water Chiller
Product description: LX-300 Glove Box Water Chiller
Product introduction
Picture

Parameters

- Constant-temperature range:5~35℃;

- Temperature accuracy:±0.1℃;

- Cooling power:300W@20℃;

- Tank Capacity:4L;

- Inlet size: Ø25 mm




- Pump output max. pressure:0.8Bar;

- Pump max. flowrate:15L/min;

- Outer dimensions:W230×D475×H475mm

- Weight:30KG

Features

- Temperature, pressure and water level display is standard configuration.
- Dynamic constant-temperature control system is for quick response and low temperature vibration.
- The main components including compressor and circulating fan in cooling system are imported products.
- Imported circulating pump is to get large circulating flow rate.
- Cooling power and circulating pump pressure is suitable for the cooling and constant-temperature in small labs.