NAVIGATION
LATEST NEWS
CONTACT US
Add: RM 1802B-A6 Fortress Tower 250 Kings RD North Point HongKong
Tel: +86 010 8499 8901
Fax: +86 010 8499 8901
Email: adahan@foxmail.com
ONLINE STORE
Your position: Home > Glove and Glove Port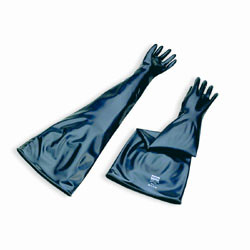 Neoprene Lead-Loaded Glovebox Gloves
7NLL3032/7NLL3032A
8NLL3032/8NLL3032A
Product description: Gove Box Gloves,Neoprene Lead-Loaded Glovebox Gloves,7NLL3032/7NLL3032A,8NLL3032/8NLL3032A
Product introduction
The mechanical performance of neoprene with the added protection of radiation attenuation.
Features And Benefits:
· 0.1 mm lead equivalency for attenuation of soft gamma radiation.
· High tensile strength provides resistance to accidental tears.
· Manufactured from premium quality milled neoprene which provides high permeation resistance to vapors & gases.
· Resistant to a broad range of chemicals, including oils, greases, fuels and acetone.
· Different colored neoprene and lead-loaded (orange) layers provide a visual indication of glove damage or excessive wear.
· Good abrasion resistance helps provide a long service life.
· Solvent based, multi-dip manufacturing process provides multiple layers of polymer (like a glove within a glove) which results in a glove of superior quality.
· Ambidextrous and hand specific styles available.
· Port sizes of 5",7" and 8"
APPLICATIONS:
· Glovebox operations in the nuclear and defense industries.
| | | | | | | | |
| --- | --- | --- | --- | --- | --- | --- | --- |
| Model | Style | Material | Length | Cuff/Port Diameter | Thickness | Color | Size |
| 7NLL3032 | Hand-Specific | Neoprene | 32" | 7" dia. | 30 mil | Black | 9-3/4(9Q) |
| 7NLL3032A | Ambidextrous | Neoprene | 32" | 7" dia. | 30 mil | Black | 9-3/4(9Q) |
| 8NLL3032 | Hand-Specific | Neoprene | 32" | 8" dia. | 30 mil | Black | 9-3/4(9Q) |
| 8NLL3032A | Ambidextrous | Neoprene | 32" | 8" dia | 30 mil | Black | 9-3/4(9Q) |