NAVIGATION
LATEST NEWS
CONTACT US
Add: RM 1802B-A6 Fortress Tower 250 Kings RD North Point HongKong
Tel: +86 010 8499 8901
Fax: +86 010 8499 8901
Email: adahan@foxmail.com
ONLINE STORE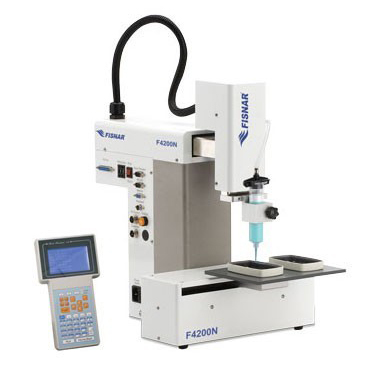 F4200N.1 Benchtop Robot Compact Benchtop Robot
Product description: F4200N.1 Benchtop Robot Compact Benchtop Robot
Product introduction
PICTURE

INTRODUCTION

The F4200N.1 is a compact and economically priced benchtop robot. This robot will support most light dispensing applications that require a high performance standard. The bench space reduction is an additional benefit. Programming is simply carried out by a teach-pendant (included) using the industry's leading dispensing software that walks the user through step-by-step instructions to create a sophisticated dispensing operation in minutes.

Features

Work area of 7.8" x 7.8"

Step & Repeat funtion - Program one object for multiple identical objects

Repeatability of 0.02mm

High resolution 0.001mm

USB port allows for data transfer between PC

100 Programs, 50,000 points per program

Continuous path motion for accurate XYZ movement

Teach Pendant and (optional) PC programming

SPECIFICATIONS

XYZ Robot Working Area (mm):200 / 200 / 50

Worktable Load / Tool:6.6lbs. / 2.2lbs

Max Speed X&Y/Z:500 / 200 mm/sec

Repeatability:+/- 0.02mm/Axis

Resolution:0.001mm/Axis

Data Memory:100 programs, 50,000 Points/Program

Drive System:Micro stepping motor

Motion Control:Point to point & continuous path

Teaching Method:Teach Pendant

I/O Signals:8 Inputs/8 Outputs

External Interface:USB/RS232

Power Supply:95-250 VAC

Dimensions (WxDxH) mm:324 x 500 x 465mm

Weight:44 lbs.