NAVIGATION
LATEST NEWS
CONTACT US
Add: RM 1802B-A6 Fortress Tower 250 Kings RD North Point HongKong
Tel: +86 010 8499 8901
Fax: +86 010 8499 8901
Email: adahan@foxmail.com
ONLINE STORE
Your position: Home > Electronic Packages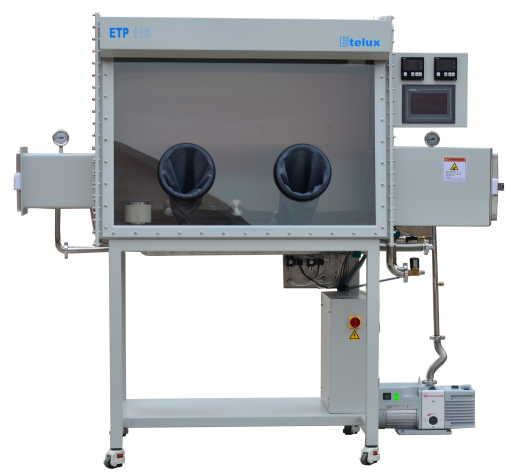 ETP110 Welding Glove Box(Seam weld)
Model:ETP110
Product description: Welding Glove Box(Seam weld)
Product introduction
1.Description for System Characteristics
This system is mainly used in the fields of welding in the innert gas protection. Such as precision components welding, laser welding, photoelectric package, semiconductor package, transistor package, welding, etc.
PLC control &operation

Historical figures and real time graphic display

Optional integrated humidity, oxygen, argon and helium monitoring

Optional integrated welding equipment (MIYACHI SM8500、Pulsar、AF8500)

Optional integrated gas purification system(Moisture、Oxygen less than 1PPM)


2.Main Parts
Box

Antechambers and oven

Vaccum System

Control system
3.Detailed Parameter
3.1、Box
Size:1800mm(wideth)×900mm(height)×750mm(depth)

Material:Deep-Type 304 Stainless Steel,thickness 3mm 。

Filter:Pole size 3μ

Glove:Glove ports 8 inch,thickness 0.4mm butl, aluminum glove port(anti-corrosion treatment), port diameter

220mm,

Window:Tilt design operating panel,unloading front window, detachable 8 mm safety toughened glass front window, wear resistance, corrosion resistance, good light transmission, OMEGA sealing ring with 3/8 inch thickness

Maintain a certain positive and negative pressure When working (-15mbar to 15mbar)

The box is equipped with anti reflection energy saving lamp,light is soft.

Inside of box equiped with a multihole power supply wiring board. (power supply: 220V±10%, 50Hz±10%)

The box can be assembled with many standard KF-40 interfaces

Box leakage rate 0.05VOL%H (meet international standard:ISO10648-2:1994)

Box has the automatic gas refilling and washing function, PLC intelligent control vacuum degree.

Dew point meter:GE (veridri) -110°C dew point meter,accuracy<±0.5°C,SIEMENS PLC display, it can automatically control box cleaning by setting a certain dew point.

Two gas inlets, N2 and He, each gas will go through the flow meter for achieve flow control and gas volume ratio. In addition to an automatic valve, He pipeline is equiped with a manual switch.
3.2、Antechamber and oven
Antechamber(left) and oven(right), shape:square, they are located in the two sides of box, connect to glove box.

Inside of antechamber size:290mm(wideth)×265mm(depth)×465mm(height), sliding tray in the antechamber, polish, the workpiece is placed 2 layers;

Vacuum degree(vacuum meter display): ≤10Pa

To achieve a regular heating system through PLC, intelligent control air pumping, flushing and other circular movement.

Heating method: heating plate, 2 layer design, through the PLC to achieve real-time temperature monitoring.

Heating time can be set freely.

Thermal insulation layer: An aluminum silicate fiber, temperature real time monitoring by PLC

Max temperature: 200℃

Steady state temperature control precision:±2℃

Oven has over temperature protection function

Antechamber could add and release the external N2 (pressure sensor can control the gas intake mode).

Oven power is less than 4KW (The whole machine power is less than 6KW)

PLC parameter record function

Antechmaber interlock, prevent misoperating
3.3、Vacuum System
Antechamber vacuum degree≤-0.1MPa

2 sets Edwards dry pump XDS10i(recommend 2 sets dry pump)
3.4、Control System
Vacuum, heating, gas charging and other function, SIEMENS PLC control and display

PLC language:Chinese,English, Russian

Japan OMRON electric temperature controller

Thermocouple control