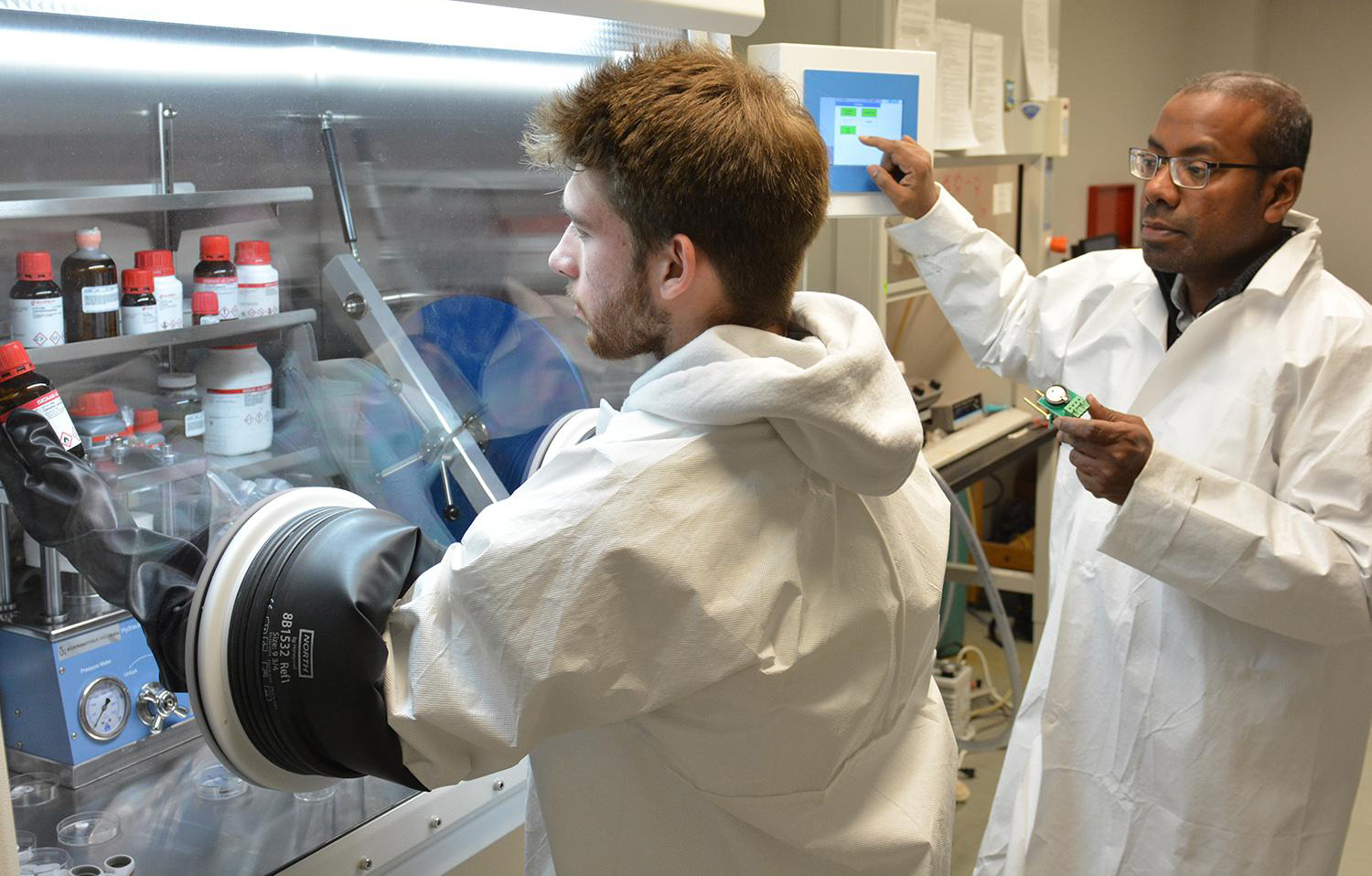 Battery testers -- In a laboratory at SUNY Oswego's Shineman Center for Science, Engineering and Innovation, junior electrical and computer engineering major Josh Willson (left) and physics faculty member Dr. Mohammad Islam demonstrate the pressurized glovebox used in working with highly reactive sodium as part of research on sodium-ion -- more abundant and less expensive than lithium-ion -- batteries.
Lithium-ion batteries continue to fuel millions of smartphones, electric cars, power tools and all manner of other rechargeable equipment, but SUNY Oswego physics faculty member Mohammad Islam believes great potential exists for lower cost sodium-ion batteries to make inroads.
An expert in fabricating and using nanoparticles in his research on batteries, Islam recently earned a campus Scholarly and Creative Activity grant to study nanoparticles that promise to improve the life and charging efficiency of sodium-ion batteries.
"Sodium is far more abundant in the earth (than lithium), and 2 percent of seawater is sodium," Islam said. "It's in the same column of the periodic table as lithium and shares many of its electrochemical properties. But sodium is highly reactive, so we have to tame the reactivity of sodium."
Islam and a research assistant, junior electrical and computer engineering major Josh Willson, work in a lab on the lower level of Shineman Center, making battery components for their tests to fit inside the familiar coin-shaped, button cell outer cases.
Specialized equipment lines one wall: an argon-pressurized glovebox workstation for dealing with highly reactive sodium compounds in a safe, clean environment; a precision testing machine to measure batteries' charge-discharge cycles; and a fume hood for work on fabricating nanoparticles.
The nanoparticles -- less than 20 nanometers (billionths of meters) in diameter -- are suspended in a solution used to make a thin film that coats the battery's positively charged electrode, the anode. Islam explained that since the nanoparticles he fabricates are "little Ping-Pong balls," there are gaps between them when films are formed, greatly increasing the battery's energy storage density and speed of charge/discharge, and reducing flammability.
The particles are so tiny, the patterns they form can only be viewed with magnifications of at least 500,000 times with the aid of transmission electron microscopy, available for Islam through a facilities-sharing partnership with the Cornell Center for Materials Research (CCMR).
'Lessons in teamwork'
Willson, who hopes to go on to graduate school, has worked with Islam in research on nanoparticles that promise to improve battery life in lithium-ion batteries, and plans to join him in the new study, titled "Fabrication of Rechargeable Sodium Ion Batteries using Ferrite Nanoparticle Based Electrodes."
"I think this work provides really good lessons in teamwork," said Willson, who recently won an award for a scholarly poster presentation at a conference titled Water + Energy + Design: Innovations for Healthy, Vibrant Communities at Syracuse University's Center of Excellence. "And I think I'm getting really good background knowledge of lab work."
Islam said he averages two research assistants at a time, and values their independence and ideas.
"I don't like to look over students' shoulders as they work," he said. "I tell them, 'This is your lab. Be creative. This is your life. Accomplishments here can lead to good things.'"
Two of Islam's former students are Ph.D. candidates at Rochester Institute of Technology, working with the university's Battery Prototyping Center. Another former student works on batteries in Syracuse University's mechanical engineering department. The work in Islam's lab also can lead to careers in other energy-related industries -- semiconductors, fuel cells, solar cells, he said.
Faculty grants
Islam said he has more grant applications in progress, for significantly more money. But he said he values highly the faith SUNY Oswego's Scholarly and Creative Activity Committee (SCAC) showed in his research.
Scholarly and Creative Activity faculty grants of up to $3,000 are designed to provide support for high-impact research among faculty and staff seeking to be more competitive in their fields, which can lead to grants from external funding sources.
SCAC also approved the following faculty projects:
"Mass Shootings and the Needs of Survivors," Jaclyn Schildkraut of the public justice department;
"'The Big Trouble Came': Youth and American Citizenship in the 1930s-1940s," Allison Rank, political science;
"From Charity to Chastisement and Cruelty," Cynthia Clabough, art;
"Mobile Eye Tracker for Multiple Projects on Search Behavior," Theo Rhodes, psychology;
"Hair Cortisol Concentrations in Subjects with Tropical Mosquito-Borne Diseases," Kestas Bendinskas, chemistry.
On average, SUNY Oswego invests over $900,000 annually through a variety of grants, recognition opportunities and awards to support faculty, students and staff in their individual and collective interests in scholarly research, professional development and creative activities.